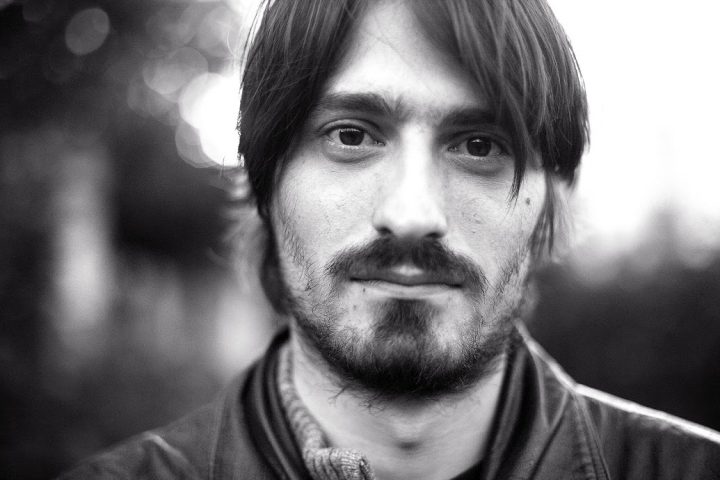 On a adoré l'album Momentum, voir chronique ici.
Pour vous, les amis, une interview de l'homme derrière cette merveille.
Il y est question de dimension épique, des montagnes roumaines, d'un photographe grec, de gens qui murmurent, du combat éternel contre les nazis, de trucs à faire à Rostock, du label Infiné que nous aimons tant, et de vous qui parlez dans votre tête.
Ce type est beau, il a du cœur et sa musique est magnifique. En espérant que vous serez conquis !
Liebe.
Jérôme « impressed » V.
Q1 : how much (positive) feedback did you receive on Momentum ?
It´s hard to judge so far, but there is already a lot of very positive feedback of radio deejays. I guess Monumentum fits with the mood of late night programs.There is a few good reviews as well. Most important is that you heard about it and I get the chance to talk about it and what matters to me now.
Q2 : for me these -your- music pieces truly own majesty and an epic dimension : how do you reach this ?
As a child, I had some mental disorder. I took part to a specialized program and went in the mountains of Romania to help me to "find myself". I wandered a lot in the woods, climb in the mountains and enjoyed the beauty and strength of the nature, in a place, where it´s still relatively well preserved. I felt so small, so insignificant on this planet. This was a dramatic experience for me. I think I make my music sound like you could lose yourself in it, like I lost myself in those mountains. I built rich ornament, and slowly developed majestic and emotional musical narrative which I could move eternally and for which I find sometime hard to put an end.
Q 3: the cinematographic feeling is also incredible : do you (would you) work on a movie OST ?
I would like to but this is only a dream til now. But I have worked with Dance companies and theater groups. I sense how OST production is working. But to get there it means a lot of work and a bit of luck too.
Q4 : who did shoot this magnificent album cover picture?
That's a nice story. A Greek friend of mine made the cover of the mini album. His name is Dimitris Borros alias Azenoire. He's a great artist. I knew his works and strangeIy when I asked him if he could picturise the music of Monumentum. . It turned out he also knew my music. Funny coincidence.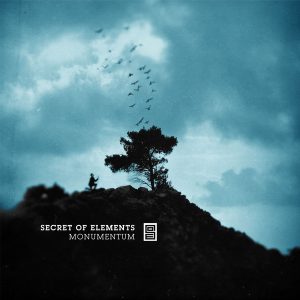 Q5 : why do most of people only listen to low quality, ready-made, soulless music ?
Listening to my music all day long and I will get insane. Sometimes you need something cheezy and tasty rather than a serious in depth entertainments to take a breath. As if you eat fast food. This can sometimes be really good for you. You also need to have the time to search for some good music and it´s easy to get lost.
On the other hand, what´s better than a secret tip. the underground talent, the brilliant album few people are whispering about. That´s how techno started. That´s why we are still searching and finding exciting new stuffs. What would be the point if mainstream was exactly what we were waiting for?
Q6 : tell us something about a political or humanitarian project you work upon right now ?
There is so much going on. At the moment, I'm trying to go back to the Mediterranean to help for first aid rescue operations. I needed to have break last year. I had never seen so much suffering. But lately, many bad things have been said about NGO here. They need machinists, and I'm quite talented to deal with the old machinery on the ship. I feel the urge to move back there and help my friends.
On the other hand there's my fight against right fascists. Especially here in Rostock and but also at some extent in all Germany. AFD and identitary movements are getting bigger and bigger. The real danger is not terrorism but extrem right terror. The identitary movement wants to fight us now in the Mediterranean. They have collected over 65 thousand euros by donations to buy a ship and want "to wipe us out".
The center and left side fear the Fascists. They burned down refugee camps, attacked politicians, Swatiskas are painted to walls again, everywhere you hear about death threats or rape threats. Just today I read in the newspaper that four Nazis had beaten a young refugee child. What the hell is going on?! This is not the country where I grew up. I see myself  in the middle. Suddenly I'm referred to as an extreme leftist, or "left Fascist". It clearly moved the game of right side of the political chess game. AFD is not an immediate danger. . I'm personally trying to go over the rule of law to stop the Nazis. But they all work decentralized. It's hard to make a Criminal charges at the prosecutor's office against someone. But I'm not alone. It is good to know that there are many others who are fighting against fascists about the rule of law.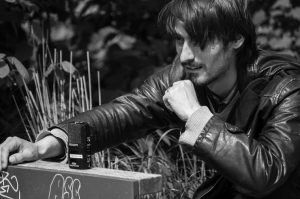 Q7 : Rostock by night and/or by day : what should I see if I'd come over ?
Depends on if you are here in the working week or on weekend. In the working week the sidewalks are folded up at 8 o'clock. At the weekend you can have luck for a cool party. But to be honest I was celebrating the last time 2012 really in a club. But if you come over the weekend, you'll have to go to with me into the theater at Friday. After that we go to the "Freigarten". On Saturday first to the beach. The beach in Rostock is beautiful. In the evening to a concert in the Mau. After that into the  Crocodile (or simply short Cro). "Those who know the Cro knows also Rostock" is my personal sentence. It´s the best Pup in Rostock. And Sunday evening into to the Jaz. There are always beautiful Sunday concerts by unknown bands from all over the world.
But that's it. This is Rostock.
Q8 : In which venues would you like to play in Paris?
I had two times the honor to play in Gaîté Lyrique. The first time in the small hall, the second time in the large hall. (THAT WAS AMAZING!). I have made great experiences there. Great technicians in the house. A great host. I have a complicated cinematic show as a projection film. And I've been nerfing the technicians for two hours, that everything will be perfect. They were always friendly and have always taken time for my extravagant wishes. That was great! So definitely, I need to come back there.
Q 9 : which musicians do impress you in 2017 ?
Let's start at the home Infiné …I am absolute impressed of Almeeva. He totally developed. It's fun listening to his music. I am also a big Fan of MURCOF and Vanessa Wagner. I can listen to it for hours. Rone not to forget, after his great appearance in the Philharmonic he now stands in a completely different league. And I know that his way still just started. I think Rone will be very important for the music. He created something completely new. Sometimes it's really hard to don't think of Rone when you make music. He has already burned himself into the history of music.
Outside of Ínfiné, I've become a fan of Rival console. Max Coopers latest releases are also God-like. The German producer Stimming. I think he has published his personal masterpieces last year. That's insanely good. He always reminds me of Phillip Glass. Stimming could be the counterpart to Phillip Glass in techno.
There are so many, but these are my favorites right now.
Q10 : a tweet-like short message to our readers
The fact, that you talk in your head, doesn't mean that you think–but just, that you're talking. 😉
Secret of Elements
Johann Pätzold
Komponist/Produzent/Sounddesigner
Homepage:
http://www.secretofelements.de
Label:
http://www.infine-music.com
Booking:
booking@mauclub.de